I was first introduced to Lucas Bullington's knives through a close friend and hunting buddy. I was so impressed with the knife that I immediately ordered my first knife from Lucas Forge the following week.
The knife my buddy showed me was a model Lucas named "The Packer".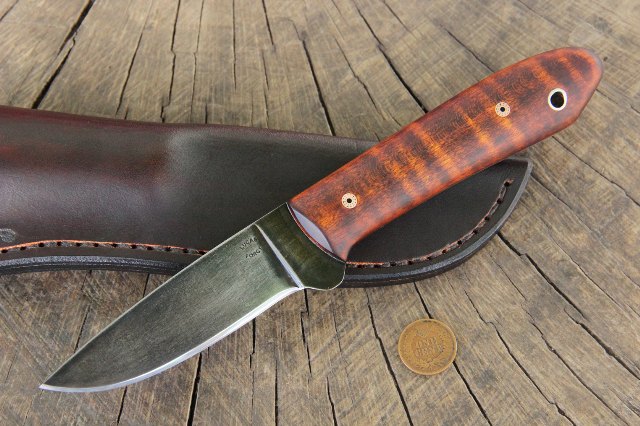 The following is the description of this knife taken directly from the Lucas Forge website:
The Packer is an ideal drop point hunting knife that is suited to a wide range of tasks around the camp and in the field. . .just about anything from skinning a deer to carving marshmallow-roasting sticks.
Each of these knives are approximately 8 inches overall, with a 3 3/8-inch blade.
The blade is O-1 high carbon tool steel in a 1/8-inch width. Other steel widths are available for custom order.
An aged blade finish is the popular standard for the Packer, but satin and hammer-forged pattern finishes are both options when customizing this knife.
Brass bolts are the hardware of choice. Or, you can go deluxe and upgrade to 3/16″ mosaic pins.
The Packer is available in a wide variety of handle choices (the one shown above is sporting a desert ironwood handle).
Each Packer also comes with a handcrafted vertical-carry leather belt sheath! A custom horizontal sheath is available upon order. If you wish to have both a vertical and horizontal sheath to go with you knife, just call or email and we'll work something out for you!
I ordered my Packer model with Bolivian Rosewood scales, an aged blade finish, mosaic pins and a crossdraw sheath. Once my knife arrived I inspected the overall quality of the knife itself and the sheath. Both were simply outstanding. My first observation was the blade was EXTREMELY sharp right out of the sheath. The aged finish looked amazing and the overall heft of the knife was impressive. I was anxious to put the knife to work and kept it in my daypack throughout hunting season. Perhaps the biggest compliment I can give the Packer is that it is the only knife I have ever owned that makes cutting the breast plate on a whitetail an easy chore. The size, and sharpness of the blade combined with the way the handle fits my hand make the chore seem almost too easy to be believed and I never once worry about breaking this blade. Edge retention is very solid, I typically touch up the edge lightly after each use. Most times this is done with a leather strop only. If I do manage to dull the blade and have to return the blade to a sharpening stone, there is a bit of work to return the edge to perfection but not overly difficult. It is a true workhorse and beautiful to boot.
Since that first knife I have purchased a couple additional models from Lucas. Both were special run knives that I just could not turn down. One was a "Scout" with standard pins and Osage scales. The other was a limited edition knife Lucas called the "8 Point" of which only 8 were to be made. The 8 Point was an early design that later became "The Packer" and Lucas brought it back for a limited production run. I ended up with #4 of 8.
The Scout is about a 4″ blade with the overall length at about 8″. It is made with 1/8″ O-1 steel and included an aged finish and brass hardware.
The 8 Point is about 7 3/4″ overall with a 3 3/8″ blade. The 8 point was also made with 1/8″ thick O-1 steel, curly maple handle with brass hardware.
Lucas Bullington's story taken from his own words.

The journey to Lucas Forge did not start out as Lucas Forge at all. It really started when Lucas was a young boy when he discovered he enjoyed drawing knives, designing and perfecting them on paper. Along with his brother, Ike, and other friends, they would make knives of different designs by "grinding" cherry slats and other wood on a concrete pad at their childhood home. They even tried coating the "blades" of those wood creations with epoxy to improve the edge-holding ability. Then when Lucas was about 10 or so, he made his first complete metal knife out of a galvanized truss tie. His interests after that first knife tended towards animal husbandry, hunting, camping and traditional archery, but he kept up with my knife designing hobby off and on through the years and bought factory and some custom knives to use in his own outdoor adventures.

He was finally inspired to try forged a blade when about 16-17 and by 18 he was selling a few knives to family and friends of family. Lucas began attending local gun & knife shows and bringing knives to sell at traditional archery 3D shoots. His trad buddies started calling them "Lucas knives" and that influenced his decision to call the operation Lucas Forge.

Once the website was up and running, several outdoor magazines published articles mentioning the knives, which helped to get them in front of a larger market. They have since been shipped to most states and several other countries as well.

Several things about making knives the way Lucas does it: He can only make so many. Some operations could be automated, but he fears the knives would lose the "feel", so he maintains a very hands–on approach to production. Related to that point, the knives are still relatively unknown on the market at large, which seems to give them that cool, niche product feel. Because he can only make so many, you may have to wait a little while for a custom knife, but Lucas works hard to make them worth it!

Lucas' time as a professional knifemaker is going on nine years now. It is a fantastic journey that he looks forward to continuing for many years, and he feels it wouldn't be possible without his Lord and Savior Jesus Christ, his family and so many friends and customers who have supported his work by buying knives from him through these years. He is very thankful for the opportunity to make knives for adventurers everywhere!
I highly recommend you check Lucas Forge out if you are considering a custom knife. I have been extremely pleased with mine and actually am planning to order another very soon for myself. They also make an awesome gift as well and Lucas makes ordering a custom knife very easy on his website, plus only a $25 deposit is required to get your knife on order. The remainder is due once your knife is completed and ready to ship to your door. You won't find many custom knife makers with such agreeable terms.